Shannon Hale's
Princess Academy
is such a sweet book. It is one I think would appeal to a wide range of girls.
The book's premise is that when the prince of Danland becomes of marrying age, a diviner will predict the location of his bride-to-be. Then, all girls of eligible age attend the Princess Academy where they will learn how to be a proper princess.The surprise about this prince's bride-to-be is that she supposedly resides high atop Mount Eskel. Those who live in the valley do not hold the mountain people in high regard. In fact, it appears they might even be using them for their own profit.
The main character's name is Miri. Miri always dreamed of working in the quarries along with her father and sister. However, Miri's father was not about to let that happen. This always bothered Miri because she felt as though she was not able to contribute to her family. When the opportunity to attend the Academy presents itself, Miri is determine to use the knowledge she gains their to better not only herself but the rest of Mount Eskel as well.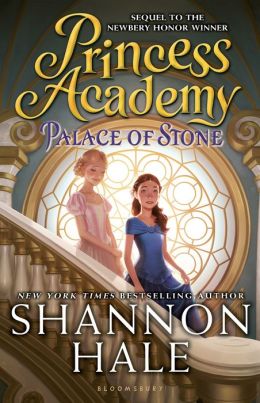 Luckily, there is a follow up book entitled the
Palace of Stone
(watch the trailer here)
in which readers will continue to follow Miri into the valley as she continues to have adventures with her friends from the academy.
But, even luckier, Young Adult Lit Obsession is offering its first book give away! Entering is simple. If you would like to enter for a chance to win a paperback copy of
Princess Academy
, please comment below; include your email address. I will notify the randomly selected winner via email. All entries must be made by March 10. Good luck!