Do you ever read something and think, oh heck, what if that really happened? That is what my brain does every time I think about
Life as We Knew It
(watch a fan-made trailer here)
and
The Dead and the Gone
by
Susan Beth Pfeffer
. These are the first two installments of the series and are companion books instead of sequential.
The premise for both books is that an asteroid is going to hit the moon. In
Life as We Knew It
this event has been really publicised and many folks are looking forward to watching the event.
In The Dead and the Gone
, this is not the case. Busy life in New York City was not really interrupted by this like it was in rural Northern Pennsylvania. However, instead of the hit being the cool spectacle astronomers predicted, the asteroid actually changed the orbit of the moon causing it to come much closer to the earth than its original position. And, as you might have guessed it chaos ensues.
Life as We Knew It
is told by a sixteen year old named Miranda. She struggles to maintain some kind of normalcy in her life after all the changes happen. She lives with her mother and two brothers. They are lucky in many ways. Some of this luck comes from the fact that they live in Miranda's great-grandparents old house in Northern Pennsylvania. Because of this, many old fashioned conveniences have been tucked away over the years and are now hugely helpful.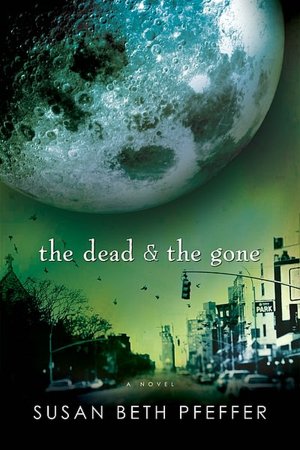 On the other hand,
The Dead and the Gone
shows the view of Alex Morales is seventeen and lives in New York City with his mother, father, and two younger sisters. At the time of the hit, his father had traveled to Puerto Rico for Alex's grandmother's funeral, and his mother had been called into work. This left Alex to make plans and begin caring for the family as if he were the head of the family.
I really like these two because of how many themes Pfeffer includes. There is not only the science aspect, but there are also moral dilemmas to explore. Also, being able to read about the same event from different perspectives makes it even more interesting. There is also a little something for everyone here. Miranda, amidst all her other worries, manages to become involved in a semi-love story. For those who love the gruesome, Alex learns how to "body shop" (take valuables from dead bodies to trade for food.). Yes, indeed. Good stuff. I even got a little misty eyed near the end of
The Dead and the Gone
.
The final book of the series,
This World We Live In
, promises that some characters from the first two books will meet up and continue the tale. I've got to say that I hope things get better for these people. And, I will also make an embarrassing admission. Sometimes, I look at the moon now and warn it. You know, I think "You better stay right there, buddy." Yep, that's right. I hope it's listening.