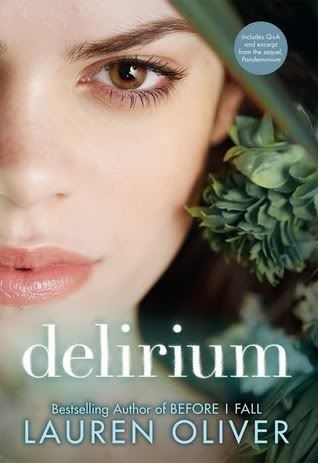 I've wanted to read
Delirium
by
Lauren Oliver
for a while. It's been in my stack of "to read" for a few months. But, recently I overheard a conversation about it that made it jump to the top. It went something like this:
Girl 1-"Did you finish it?"
Girl 2- "Obviously!"
Girl 1- "Did you get all, like, I can't breathe?"
Girl 2- "Obviously!"
Me (interrupting, because that's what I do when I hear something this interesting)-"What?"
Girl 1 &2 (one decibel below scream)- "
DELIRIUM
!!!!!!!!"
Me- "Oh, cool. I want to read that. Maybe I will read it next."
Girl 1 & 2 (1/2 a decibel below scream)- "You have to!"
Me- "You know there will be a sequel soon, right?"
Girl 1 & 2 (full on scream)- "Shut up!"
So, as you can see, having heard girls say this book made them short of breath, I had to skip it to the top of the stack. And, I am so glad I did!
In
Delirium
(watch the interactive trailer here),
the wise future government of the United States has deemed love and its symptoms to be a disease, "deliria". Of course they have found a cure for this sickness, which is administered shortly after one turns 18. People must wait until 18 to be cured because the cure has been known to have tragic effects on people who have had it administered early.
Lena is 95 days from her procedure as the book opens. She lives with her aunt and uncle and looks forward to having the cure. Unfortunately, Lena's family has been tainted by the deliria. The procedure never worked for her mother, which is quite rare. Uncureds are not welcome in this society. They must live in the Wilds and are referred to as Invalids. This hardship makes Lena confident she wants the cure.
But, one day that all changes. During Lena's pre-procedure evaluation, she catches a glimpse of a boy with a twinkle in his eye. Later she runs into him again and discovers that Alex has known her from afar for quite some time. And, as you might have guessed it, Lena does the unthinkable and falls in love with Alex, and he her. But, love is not welcome in this society. It's a crime. It's punishable by death in some situations. Now Lena is faced with the choice of going through with her procedure and living the life she always thought she wanted or turning her back on all that is familiar for love.
Honestly, I do not understand how the girls I overheard lived through the night without knowing there would be a sequel. The end of the book is phenomenal and a colossal cliffhanger. If I thought for one minute that we would never know the rest of the story, I might have requested the cure myself so I could forget the pain of not knowing! If you have been bitten by the dystopia bug and also adore a story of forbidden love, pick this one up, jump it to the top of your stack, do whatever it takes, people.
The sequel,
Pandemonium
(watch Oliver discuss, SPOILER alert for those who haven't read
Delirium
), will be available February 28, 2012. I for one, cannot wait! The final installment in this trilogy,
Requiem
will be out in February of next year. Lauren Oliver also wrote
Before I Fall
, which I also enjoyed.