Warning: This review contains
Vixen
spoilers. Wait no longer.
Read the first chapter of Vixen here!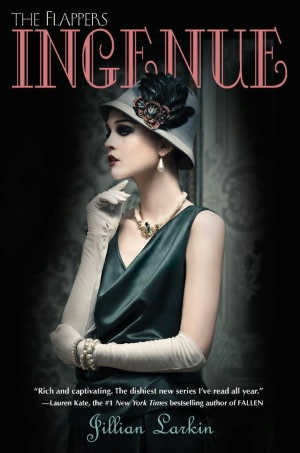 Oh my goodness! My love for
Ingenue
is mountainous. Yes, I love it with a love as big as a mountain. It is, to quote Lorraine Dyer, "the cat's pajamas" which is a phrase I will single handedly be attempting to bring back to the mainstream. If you haven't begun the Flappers Series by Jillian Larkin, there is no time like the present. The series begins with
Vixen
(read my review here)
and is followed by
Ingenue
.
The action in
Ingenue
picks up after the dramatic end of
Vixen
. Our friends Gloria, Clara, Lorraine, and Vera have found their way from Chicago to New York. Each of the girls is facing a new set of problems. Gloria Carmody was forced to leave Chicgao after killing a gangster and in order to be with her true love Jerome Johnson. Unfortunately, life in New York isn't easier for Gloria and Jerome. The stress of their relationship begins to take its toll as both Gloria and Jerome struggle to find work as musicians and evade those out to destroy them.
Former vixen Clara Knowles also finds herself in a predicament. She has committed to turning her back on her old flapper ways in order to share a life with the perfect Marcus Eastman. Much to her surprise, she finds hereslf in the middle of her old ways as a means of starting a new phase in her life. Unexpected.
Lorraine, oh Lorraine. Needing revenge against all her former acquaintences from Chicago, Lorraine has dedicated her life to luring Gloria and Jerome into a trap. However, she may ultimately be the one entrapped.
Last but not least is Vera Johnson, the beautiful sister of Jerome. Vera is committed to intervening on the part of her brother. She cannot bear to think of him as being a target of the mob. Much to her dismay, finding him may not be that easy.
Ingenue
is genius from the plot to the title. I must admit I was not familiar with the term ingenue. Just in case you are also not, an ingenue is a young, naive woman or an actress who is typically cast in the role of the innocent and wholesome woman. Both of these are truly on point. Each of the main characters truly fits one or both of those definitions. Well played, Jillian Larkin. Well played.
The excitement of the Flapper series continues with the book Diva. Diva is set to be released June 10 2012. I for one cannot wait to see what happens. Plus, the cover is just beautiful! Be sure to visit the
series website
to do cool things create a photo of yourself as a flapper!
*These are best suited for older teens.